-
Hunting in Turkey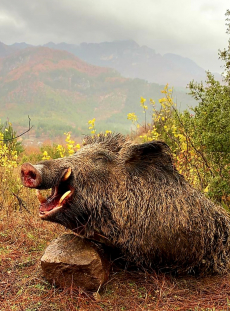 If you are wanting to hunt wild boar and looking for spectacular scenery, Turkey has to be your prime destination. Compared to the central European driven hunts, the Turkish are much more demanding for a hunter, shooting distances are longer and often going to posts requires some physical ability to move in hilly terrain. But the size and the number of boars are a big reward for all the efforts. It is not rare to have multiple big medal sized boars during the hunt and the biggest ones will be easily over a gold medal. The season for the driven hunts runs from September until mid february.
If you are looking for more of an individual hunting experience, night time stalking for wild boar is organized all year round and always delivers very big tuskers!
Another endemic species in Turkey is the Bezoar Ibex. Hunting is real mountain hunting and the hunter must be prepared to take shots at a distance over 400meters. The horns of the Bezoar Ibex are the longest of all ibex species when compared to the body size of the animal, and this trophy is without a doubt the centerpiece of any
trophy room! You can hunt Bezoar from August until the end of March, the peak season being November/December when the rut takes place.